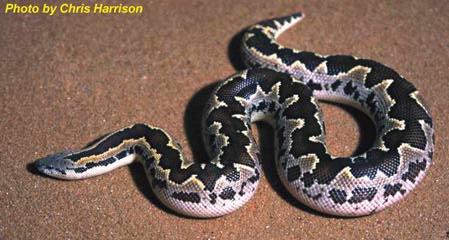 Rough Scaled Sand Boa - Eryx conicus
photo by Chris Harrison
Free the DUBUQUE 3!
In Dubuque Iowa the city has seized 3 sand boas as "dangerous" pets under their dangerous pet laws concerning boa constrictors. While I applaud the city for enforcing their laws when they are on the books I haved to ask myself, what are they smokin in Iowa and where can I get some.
Sand Boas, Eryx conicus and it's mates, usually grow no larger than 2 feet, weigh less than a pound, are not venomous, and the ONLY thing that actually considers them dangerous besides Dubuque are the small feeder mice they have for dinner. There has never ever been a fatality attributed to any of these small species of constrictor. These small, docile, even lethargic creatures could spend their entire lives in a shoebox, and the mere suggestion that they are dangerous to humans in any way is beyond laughable. These aren't 14 foot jungle beasts run rampant, they barely qualify to be in the Boidae family, and are probably there more as a convenience to the scientists that have to categorize everything than anything else.
I don't know who in the city of Dubuque they have running their animal control, I don't know how the city of Dubuque worded their law, I do know that this is absolutely silly and unfortunately a sign of the times.
This is a grasp at straws to justify the cities involvement in a poorly planned raid where the pre-raid intelligence was as bad as the post-raid intelligence behind the seizure. They got bad intel, raided this poor families house, then when they found there was no real violation, reached for the only straw that could even remotely be considered just so they wouldn't look stupid.
Well congrats Dubuque, you look pretty stupid from here.
I am asking that EVERY reptile person on kingsnake.com reach out to Dubuques Mayor Roy D. Buol at rdbuol@cityofdubuque.org and ask him to "pardon" the Dubuque 3, dismiss the dangerous animal charges and ask him to review the laws that would allow a seizure of these non-descript pets as "Dangerous".